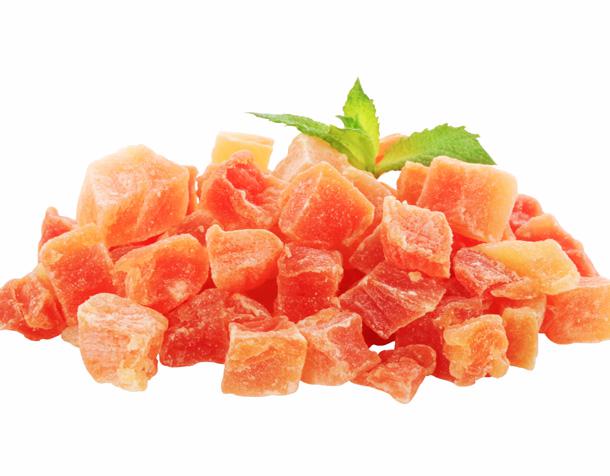 IQF Papaya Dices / Slices
Ghousiafood offers finest quality IQF papaya dices and slices, manufactured by following best processing practices. Fresh papayas are procured and adequately ripened to achieve fruit"s full flavour. The ripened fruit is then thoroughly washed, peeled and sliced/diced to required size and shape. Thereafter the diced or sliced papayas are passed through metal detector and individually quick frozen in cold storage at -18° C.
Season
January
Feburary
March
April
September
October
November
December
Specifications
Standards
Packaging
Request a sample
Single Strength Specification:
PARAMETERS
VALUE
Organoleptic Parameters:
Flavor:
Characteristic of red/Yellow papaya smell
Color:
Clean uniform pink /Yellow
Taste:
Typical of semi-ripe papaya
Chemical Parameters:
Ingredients:
Red/Yellow Papaya
Brix:
Min. 7- 9 deg.
Acidity:
0.5 to 0.7%
pH:
Additives:
None
Sample size
500 gm
Physical Parameters:
Criteria:
Tolerance
Peel/soft seed portions:
Rotten/Mouldy fruit:
Nil
Other foreign bodies:
Nil
Clumps:
Not more than 3 pieces welded together.
Microbiological Standards:
Total Plate count/g:
Coliform/g:
Yeast & mould/g:
E. coli/g:
S. aureus/g:
Listeria:
Absent in 25 gm
Salmonella:
Absent in 25 gm
Packing:
As per customer's requirements in food grade packing material
Shelf-Life:
18 month from the date of mfg.
Storage:
At -18° C or below.
Delivery:
In a refrigerated container. The delivery vehicle must be in a clean & well maintainedcondition.