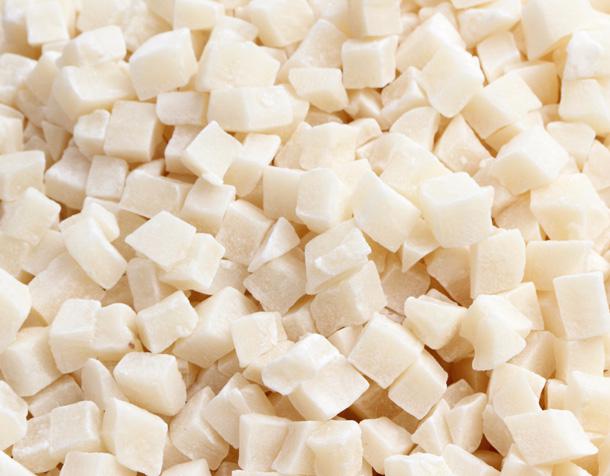 IQF Coconut Dices
Coconut is a very versatile fruit known for its refreshing taste, minerals, antioxidants and high fibre content. Ghousiafood exports premier quality IQF coconut dices prepared using advanced freezing techniques. Free flowing frozen Coconut dices produced from whole ripe Coconut. The fruit is picked and transported to the processing factory without delay. It is then peeled and removed shredder and passed along the inspection belts to remove any foreign bodies or over/under-ripe shredder. The Sheredder is then diced by Machine to 6mm, 10mm and passed through dewatering and infeed shaker to IQF. The IQF dices are then sieved,inspected and weighed and packed.The packed cartons are fed through metal detector and transferred to cold store at 18oC.
Specifications
Standards
Packaging
Request a sample
PARAMETERS
VALUE
Ingredients
Coconut
Type
Dices
Storage
Min -18° C
Colour
White
Flavour / Aroma
Natural and Characteristic
Microbiological Analysis
TPC cfu/gm
< 10,000
Yeast/Mould cfu/gm
< 1000
Coli forms cfu/gm
< 100
E-Coli cfu/gm
Absent
Salmonella cfu/gm
< 100/g
Staphylococcus aureus
Negative in 25g
Packing
Packed in blue color food grade LDPE bags,

packed in 5-plycorrugated cartons of 10 Kg.